Suburban Building Services Inc.
Complete Building Services & Supplies
Warehouse & Showroom Located At:
12 Roselle Street
Linden, New Jersey 07036
Call: 908-587-1420 or Fax: 908-587-0569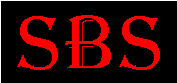 The Idea Behind "One Stop Shopping"
SBS has someone to do every job. Customers know each additional contractor means another check to write and more time spent on processing accounts payable. More administrative work simply means more cost to you. By anticipating our customer's needs, delivering service and products that exceed those needs and communicating regularly to review your future needs. Many customers are looking to partner in order to control costs, simplify adminstration and institutemore valuable management & quality controls.

|Carpet Care| |SBS Info.| |History| |Jobs| |Chooser| |SBS Home|